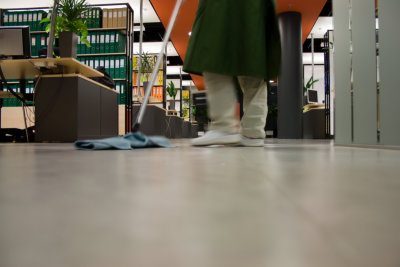 The Best Cleaning Services in Fort Lauderdale, FL
When you want your home or office to be squeaky clean, enlist the help of a professional cleaning service in Fort Lauderdale, FL. A clean, hygienic, and healthy space ensures a safe environment for you, your family, or your employees. A reliable and trusted cleaning company like ours can provide spotless cleaning to keep your home or office a conducive space.
Enlisting L & L Home and Office Cleaning Services, Inc. can go a long way. Reduce the stress of doing all the hard cleaning yourself and reap the benefits that we can offer. Having a professional to clean your space ensures true deep cleaning and can actually save you money.
We ensure thorough cleaning and disinfection
When you hire us, you can expect to get an in-depth office and home cleaning in Fort Lauderdale, FL. Dirt, allergens, dust, germs, and bacteria will build up as time goes by. Regular cleaning may not be able to thoroughly remove all these. A professional cleaner in Florida has a personalized cleaning checklist and can bring the right cleaning tools to thoroughly disinfect your home or office space. The benefits of having us are not just limited to ensuring a shiny and clean space but also keeping you safe by having a healthier living environment or setting for your family or team.
We have great attention to detail
Some areas in your home or office may be overlooked when you do the cleaning yourself. Moreover, there are also areas wherein you might not know how to properly clean, such as tight areas that are difficult to reach. Having a cleaning company in Fort Lauderdale, FL handle the job is your best choice. Our cleaners have excellent attention to detail and know exactly where and how to clean difficult areas in your space. Nowadays, deep cleaning is especially important because of viral viruses that can easily infect people through touch. Our cleaning supplies are of high quality and ensure that every corner is cleaned efficiently.
We can help save time and effort
Cleaning your space can be a very challenging task, especially if you have other responsibilities you need to attend to. The advantage of hiring our cleaning service in Fort Lauderdale, FL is to spare you the effort of having to do the cleaning after a long day at work or when you don't have the time to do it at all. We lift the burden off your shoulders so you can relax and rest instead of cleaning. Professional cleaners like us use special cleaning tools and techniques to meticulously tidy things up, especially hard-to-reach spaces in no time.
We can give you peace of mind
An unkept home or office can risk the health of your family or team members. Untidy spaces increase the likelihood of bacteria and germs breeding; thus you will be exposing everyone to contamination and illnesses. We at L & L Home and Office Cleaning Services, Inc. can help you prevent this. Our professional cleaners adhere to health and safety training to keep your space healthy and clean. With our expert team of cleaners, you can have peace of mind knowing that your home or office is safe for your family or team.
We have a team of professionals
Our cleaning approach is always meticulous and precise. Our cleaning specialists will strive to meet the requirements of our clients. Entrusting the job to us means getting the best house cleaning, office cleaning, apartment cleaning, move-in-out cleaning, carpet cleaning, and upholstery cleaning, among others.
Our dependable cleaners in Fort Lauderdale, FL have undergone the following requirements:
Reference and background checked
Thoroughly screened and tested
Professionally trained in state-of-the-art tools and equipment
Insured and bonded
Reliable and responsible
So, what are you waiting for?
Feel free to contact us and let us provide you with unmatched cleaning services in Fort Lauderdale, FL that you deserve!
Get a Free Quote by calling 754-368-1406 or email us from the Contact Us page.